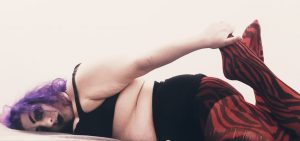 Photo courtesy of Deviant Succubus
Note from Kinky & Nerdy: This month, I've submitted a post to Elust again. Elust collects blog posts related to sex, BDSM and relationships which have been submitted by their authors every month. It's a great way to discover new writers and find worthwhile posts you might otherwise have missed and to also have your own posts be found by others. Everyone who is included in the published collection has to post the entire digest. So here it is!
I really like the featured image that was chosen for this month!
---
The only place where the smartest and hottest sex bloggers are featured under one roof every month. Whether you're looking for sex journalism, erotic writing, relationship advice or kinky discussions it'll be here at Elust. Want to be included in Elust #124? Start with the rules, come back November 1st to submit something and subscribe to the RSS feed for updates!
~ This Month's Top Three Posts ~
Breast cancer awareness – check your boobs
~ Featured Post (Molly's Picks) ~
Metamorphosis: Fat, Fit and In Between
Contraception- life without birth control
Erotic Non-Fiction
Thoughts & Advice on Kink & Fetish
The Image (1975): The Celluloid Dungeon
Latex for the Curious – Catsuits
13 reasons why I love play parties <- this is mine!
Erotic Fiction
Alice's Minotaur: A Ravishment Tale
Rugby world cup I only care about the fucking
Thoughts & Advice on Sex & Relationships
5 things that encourage Dominance
My Happy Place is an 80s (Sex) Mansion
Sex News, Opinion, Interviews, Politics & Humor
Sex Work – How My Views Have Changed
Body Talk and Sexual Health
My Nexplanon Implant Story: The Procedure